Let's Celebrate our Mother Earth
For Swiss Travel International Mother Earth Day is one of the most important celebrations each year, as we are aware that each of our operations has an impact, but we work hard to reduce and compensate such impacts by following our Sustainability Policy.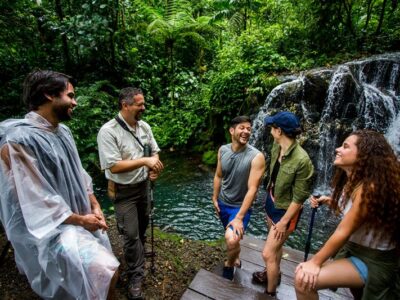 Our policy focus first on our people. As a company whose main goal is client satisfaction, our staff works hard towards this, giving especial 'accent´ to our service.
While focusing on quality service, we operate following all regulations, which include following laws of wildlife protection and the protection of our most vulnerable populations.
We prevent and reduce al possible impacts while we operate, adhering to many different practices such as use of new technologies that reduce gas emissions, sustainable energy and water consumption in our headquarters, education to our visitors to protect our nature and respect our cultures, and more, all this reflected in our different awards and certifications.
We give back to our communities through different programs, including actions to reduce climate change effects like tree planting and beach and river cleaning. Also educational programs like E-Mentores which empower kids and youths to prevent the dangers of the internet, and many other efforts.
Find more details on how we protect our Mother Earth and more of our Sustainability Policy in our yearly Sustainability Reports.
Traveling with Swiss Travel is not only about exploring our beautiful country, is also a way to support actions for the protection of our land and its inhabitants.